contact
Peggy Vaccaro
Administrative Assistant
Howard Strassler, DMD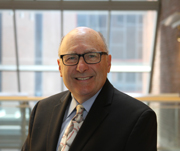 Professor and Director of Operative Dentistry
Dr. Howard Strassler is Professor and Director of Operative Dentistry at the University of Maryland School of Dentistry in the Department of Endodontics, Prosthodontics and Operative Dentistry. He has presented over 450 continuing education programs both nationally and internationally on techniques and selection of dental materials in clinical use and esthetic restorative dentistry. For the 12th year in a row, Strassler was honored as being one of the top CE presenters by Dentistry Today. He is a Fellow in the Academy of Dental Materials and the Academy of General Dentistry.
In 2000, Strassler received the Academy of General Dentistry's highest honor, the Thaddeus W. Weclew Honorary Fellowship for contributions to the profession. He is on the editorial review board of a number of dental publications. Strassler is reviewer for many journals. He is a consultant and clinical evaluator to over 15 dental manufacturers. Strassler has been involved in funded research with restorative materials. He is a regular contributor to many publications and has published over 500 articles and columns in the field of restorative dentistry and innovations in dental practice. His focus in his over 30 years in dental education continues to be innovative teaching using technology.
RESUME HIGHLIGHTS
Thaddeus Weclew Honorary Fellowship This is the Academy of General Dentistry's highest honor. This award is given to an individual who has made outstanding contributions to the art and science of dentistry or who has enhanced the principles and ideals of the Academy of General Dentistry. July, 2000.
Frank J. Sinnreich Award This award is for Excellence in Teaching, student award, teacher of the year. May, 2001.
RESEARCH INTEREST
Adhesive restorative materials
Related Links