contact
Peggy Vaccaro
Administrative Assistant
Operative Dentistry Program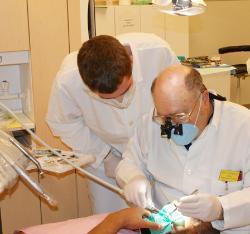 Operative Dentistry is that portion of the profession which deals with the treatment of missing or malformed portions of teeth caused by tooth decay (caries), trauma, discoloration or unusual development.
Typical materials used by the dentist to restore and correct these conditions are silver amalgam, tooth-colored composite resin or resin modified materials, porcelain, gold and other cast restorative materials.
Each undergraduate dental student learns the microbiologic causes and treatment of caries, the causes and treatment of discolored and malformed teeth and the treatment of tooth fractures both from an emergency point of view as well as teeth which have been fractured for a period of time. The teaching program in Operative Dentistry encompasses all four years of dental school. Freshmen learn basic information through lecture/seminar formats and then apply this information in preclinical simulation laboratories where they treat typical dental conditions on manikins.
Sophomores are given experiences in a clinical block format by examining and developing treatment plans for each other, plus they receive advanced lectures through electronic media presentations. Juniors have a semester of didactic lectures/seminars of a clinically advanced nature to supplement the basic information they received in preclinical courses and they treat the restorative needs of their assigned comprehensive care patients. Seniors continue to develop their skills in Operative Dentistry diagnosis and treatment through their patients, and they are given opportunities to treat patients under Northeast Regional Board Examination conditions to not only treat their patients' needs, but also to prepare them for Board Examinations.