| | |
| --- | --- |
| From Baltimore to Ecuador: Volunteers Provide Dental Care | |
---
Written by Adam Zewe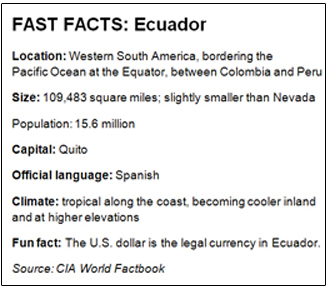 A fervent desire to provide care for underserved children inspired a group of pediatric dentistry residents and faculty members from the University of Maryland School of Dentistry (UMSOD) to embark on a cross-continental mission trip. In early March, the group spent a week treating pediatric patients in an impoverished area of the South American country of Ecuador.
The residents and faculty members joined a team of other medical professionals who participated in an outreach program sponsored by the Ecuadent Foundation, which has been providing volunteer medical and dental care to Ecuadorians since it was established in 1990. The UMSOD volunteers helped set up a makeshift dental clinic inside a hospital in the coastal city of Esmeraldas. The volunteers provided oral hygiene instructions, dental cleanings, sealants, fluoride treatments, restorations, extractions and dental appliances for more than 500 children, many of whom live in local orphanages. "Our philosophy was to do as much as we could for as many patients as we could," said Minthu Phan, DDS '12.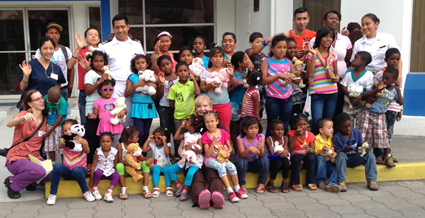 Phan and fellow pediatric resident Emilie Guinto, DDS, worked at a feverish pace during the five days the clinic was open. They provided more than 1,600 procedures for the impoverished residents of Esmeraldas. Some children suffered from severely decayed primary and permanent teeth, due to their lack of oral hygiene supplies. For many patients, receiving treatment from the volunteers marked their first time in a dentist's chair. Keeping the children calm, especially when they spoke only Spanish, was the residents' greatest challenge. "Ecuadorian translators read stories to the children during patient care to ease their fears and distract them from the procedures. This enabled us to provide quality dental care in a safe and efficient manner, while also helping the children develop a positive attitude towards oral health," Guinto explains.
Despite their apprehension, the patients were grateful to receive treatment. Phan recalls one case that was especially rewarding. She spent hours rebuilding molars for a patient who suffered from severely broken down enamel. "Afterwards, I handed her a mirror and she started crying and gave me a hug. She wasn't able to actually communicate with me, but I could see from her smile that it had made a real difference for her," she says. "That made it all worthwhile."
Click here to see a photo gallery from the mission trip.
---