| | |
| --- | --- |
| Foreign School Models Curriculum After UMSOD | |
---
Written by Adam Zewe
Riyadh, the capital of Saudi Arabia, may be nearly 7,000 miles from Baltimore, but dental students in both cities have more in common than one might think. Saudi Arabian dental students use an educational system that is based on the technology-driven curriculum originated by the University of Maryland School of Dentistry (UMSOD).
Through an innovative academic partnership, the School of Dentistry enables faculty members at the newly established College of Dentistry at King Saud Bin Abdulaziz University for Health Sciences (KSAU-HS) in Riyadh to develop lectures and course materials based on the UMSOD curriculum. "This is the first time a North American dental curriculum is being patterned for use outside of North America," remarks Bernard Levy, DDS, MSD, director of Global Operations. KSAU-HS purchased the rights to the curriculum and will continue to pay royalties to UMSOD for the next six years. Levy recently visited the Saudi school to assess the curriculum's implementation.
During a two-week visit, he interviewed students, faculty members and administrators, reviewed Saudi lectures and course materials (which are all presented in English), toured the facility and presented his findings to KSAU-HS leadership. He was surprised to see that Saudi dental students are true technophiles, just like their UMSOD peers. "My preconceptions were blown away. Culturally, Saudi Arabia is as different from the U.S. as any place on Earth, but the similarities between their students and our students were striking," he says.
KSAU-HS, a new dental school, is a six-year program that accepts students after high school. Students complete two years of pre-dental training before beginning the four-year dental curriculum. Classes currently have about 25 students each, but the school plans to eventually accept 70 students annually, Levy explains.
Levy envisions exciting opportunities for faculty members to share knowledge and travel between the two institutions. He also plans to establish an academic externship that will allow UMSOD students to broaden their cultural horizons. "We should be able to learn a great deal from our partners in Saudi Arabia, and they from us. I think this is a win-win all around," states Levy.
Click here to check out more photos from Dr. Levy's trip on Flickr.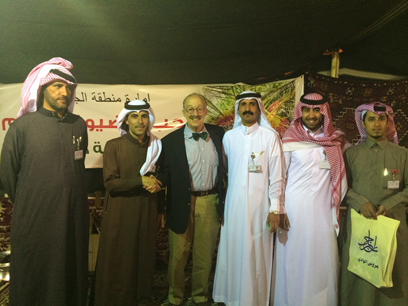 ---