| | |
| --- | --- |
| UMSOD Launches Oral Surgery Student Society | |
---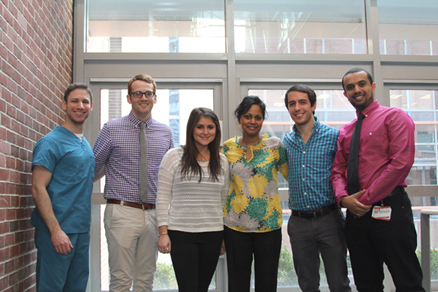 Written by Adam Zewe
The University of Maryland School of Dentistry (UMSOD) Department of Oral & Maxillofacial Surgery has formed a new group for dental students who are interested in pursuing training or careers in oral and maxillofacial surgery (OMFS).
The OMFS Interest Society will host monthly meetings featuring lectures on timely topics related to the specialty, workshops on residency program applications, hands-on practice of surgical techniques, and opportunities to serve the community and assist with research. Dental students will work closely with the School of Dentistry's OMFS team at the University of Maryland Medical Center.
"My hope is that this group will provide structure and guidance to foster students' interests in oral and maxillofacial surgery. Even for those students who do not choose to pursue OMFS, the society can teach them skills that can help further their careers in dentistry," remarks Assistant Professor Donita Dyalram, DDS, MD, the group's faculty advisor.
OMFS Society President Max Emmerling, DDS '15, became interested in the specialty while he was shadowing an oral-maxillofacial surgeon. He was amazed by the intricate procedures the surgeons were able to perform. Emmerling is excited to learn skills that could help him begin an OMFS career. "This society will be an excellent resource for incoming students to get involved at the University of Maryland Medical Center and learn about what it takes to become an oral and maxillofacial surgeon," he states.
The OMFS Interest Society is open to all UMSOD dental students. For more information, contact Alida Fitzpatrick at afitzpatrick@umaryland.edu.
---