| | |
| --- | --- |
| ''On the Cusp'' Crowned Battle of the Bands Champion | |
---
Written by Adam Zewe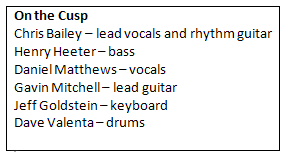 "On the Cusp," a rock band composed of fourth-year dental students, was crowned champions of this year's University of Maryland School of Dentistry Battle of the Dental Student Bands on Nov. 8. The annual competition features performances by one rock band from each dental school class, with the audience voting for the winner. We caught up with "On the Cusp" to learn the secret to their musical success.
AZ: How did "On the Cusp" get started?
CB: It all came together haphazardly. I met (drummer) Dave Valenta in anatomy lab during our first year. We ended up performing together at an open mic night at the campus center.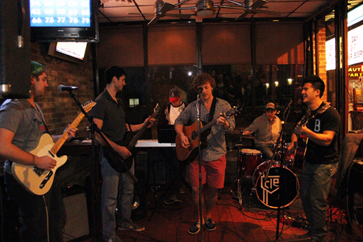 AZ: So you realized you played well together?
CB: Yes, I thought we gelled pretty well. We started getting together at someone's apartment to jam. We recruited other members by word of mouth. By fall of our second year, we had the lineup in place.
AZ: What kind of music do you play?
HH: We're a cover band. We play everything from Marvin Gaye to Elvis to Bruno Mars to Shaggy. We try to play what our audience wants to hear.
AZ: That's a really eclectic mix.
CB: Each of us has a different musical influence. When we prepare for a show, we each get to request a handful of songs that we'll perform.
AZ: What's your favorite thing to play?
HH: "Listen to the Music" by the Allman Brothers. We always play that song as our sound check.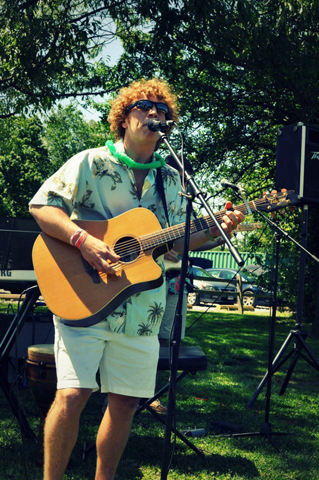 AZ: How do you manage to practice with your busy schedules?
DM: It's tough to fit it in, but we don't really think of it as practice. It's an outlet from dental school.
CB: At least now, as fourth year students, we don't have class work, so we don't feel bad about practicing instead of studying.
AZ: Still, I'm sure it is a time commitment. What makes it worthwhile?
DM: (laughing) The fame and the money. Seriously, though, if youýre a skilled musician, playing with another skilled musician is always fun because together you can make something much better than you could on your own.
HH: It's a great feeling to be on stage together. We really enjoy watching everyone in the audience have fun.
AZ: Where was your most recent show?
CB: We actually just got back from our first road trip to perform in Winchester, Va. Our drummer's sister goes to school there and we played at their formal.
DM: It felt like we were a real rock band out on the road. It was our first show playing for people we didn't know, but they still enjoyed it. That felt really good.
AZ: Where will you be playing next?
CB: We just booked a show for the night of graduation at the Waterfront Hotel in Fells Point.
AZ: All of you will be graduating that day. Will the show be a swan song for "On the Cusp?"
DM: Who knows? Maybe "On the Cusp" will come back and play a reunion show someday.
AZ: You've been together as a band for most of the last four years. Looking back, how have you benefitted from the experience?
DM: Being up on stage definitely builds your confidence. You have to have a good attitude. If you give off a positive vibe, people will respond well to it. I think you can apply that philosophy to dental school and to life in general.
---