| | |
| --- | --- |
| Student Profile: Christine Dumler, DDS '17 | |
---
Written by Adam Zewe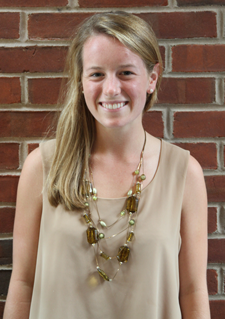 During her summer vacation, Christine Dumler, DDS '17, traded sunscreen and flip flops for test tubes and microscopes. The first-year dental student spent weeks developing the winning research project of this year's University of Maryland School of Dentistry (UMSOD) Summer Research Training Program.
Working with Assistant Professor Man-Kyo Chung, DMD, PhD, Dumler studied how pain spreads through sensory nerves in the teeth and mouth. She focused her research on glial cells located in the trigeminal ganglia, which is a collection of nerve somas that supplies nerves to three distinct facial portions. Scientists are still working to understand how pain spreads between these nerves. "Many times, when a patient experiences pain in one area of the craniofacial region, they complain about pain in other areas of the mouth," stated Dumler.
As Dumler studied interactions within the ganglia, she saw how each nerve secreted hydrogen peroxide when it was injured. This hydrogen peroxide sets off a chemical reaction in the glial cells, which are adjacent to the nerve. Once the chemical reaction starts, these glial cells increase their production of cytokines and chemokines, which are the same two chemicals that are released when inflammation affects the body. These chemicals may contribute to the spread of pain in the mouth. "It's an interesting finding, but it's only one part of a much larger puzzle," Dumler remarked.
After presenting her findings this summer, Dumler won first prize for her research project. She received the ADA/DENTSPLY Research Award, which is a travel grant that will fund her trip to the American Dental Association Annual Session in 2014, where she will present her research to a wider audience of dental professionals.
Dumler feels honored to win the award and looks forward to showcasing her research on a larger stage. She knows that the scientific skills she developed this summer will benefit her in a future dental career. As she completes her first courses at UMSOD, Dumler has seen how research plays an integral role in dentistry. "It's great to connect what I found in the lab to what I learn in the classroom. It helps me to value what I am learning even more," she said.
---