| | |
| --- | --- |
| Chatting with Dean's Faculty member Paul S. Rosen, DMD, MS | |
---
Written by Paul Drehoff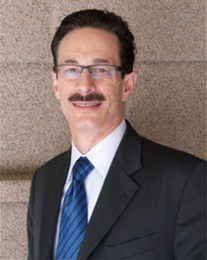 Paul S. Rosen, DMD, MS is a University of Maryland School of Dentistry alumnus and highly respected periodontist who has received numerous awards. He was named "Best Dentist" in 2012 and 2013 by Philadelphia Magazine and by Suburban Life magazine. Dr. Rosen has published more than 14 articles and book chapters in the last two years and has volunteered his time and talents with UMSOD since 1988.
Q: What attracted you to the field of dentistry?
A: My eighth-grade science teacher, Mrs. Floyd, introduced us, every Friday, to a variety of career opportunities that existed in the science field. Growing up, my dentists, Drs. Jerome Uchin and Joe Fertig, had a positive impact upon me.
Q: Where did you earn your degree(s)?
A: I earned an AB degree at Lafayette College, a DMD from the University of Pennsylvania, and an MS in Oral Biology (1990) and Specialty Certificate in Periodontics (1988) from the University of Maryland School of Dentistry.
Q: Where do you devote your time at the University of Maryland School of Dentistry?
A: I volunteer in the Post-Graduate Periodontics and the Periodontal-Prosthesis Program.
Q: Why is it important to you to be a part of the Dean's Faculty?
A: It is a great way to give back to the profession that I love and to the program that had a major impact on me. I started because of Jerry Bowers and the great respect and friendship that I have had with him throughout the years. I continue to come because of the great respect that I hold for Sylvan Feldman (who trained me in dental implants) and Mark Reynolds (who went through residency after me). Finally, Dean's Faculty volunteers are great people and give back to the profession in a very meaningful fashion.
Q: What do you find unique about UMSOD?
A: The school has a great reputation which reflects on the outstanding faculty and its graduates. The facility is second to none in the world. I also believe that the Periodontal-Prosthesis Program, which is a modern day extension to the work of such people like Morton Amsterdam and Leonard Abrams, is a true gem and one that is not found at many schools.
Q: Are you currently practicing?
A: I have a full-time private practice in Yardley, Pennsylvania.
Q: Tell us about a recent article that you have published.
A: Rosen PS, Rosen AD. A Case Series Report on the Purposeful Exposure of a Polylactic Acid Barrier to Achieve Socket Preservation for the Placement of Dental Implants. Compendium of Continuing Education in Dentistry 2013;34:34-40.
I am particularly fond of this as my older son Adam is the co-author. He helped to enter the data into a spread sheet/Excel table and organized the images of all the procedures. What is pertinent about this article is that it debunks the myth that a polylactic acid barrier needs to be submerged to be successful with site preparation efforts for dental implants. If one were to follow the manufacturer's directions and try to submerge the barrier, it might lead to undue morbidity. The company was so impressed with this information that they have approached the FDA to expand the indication to the barrier.
Dr. Rosen is an avid sports fan and likes to exercise and travel. He has been married to his wife Sheri, who is an optometrist, for 23 years. They have two sons, Adam and Ari, and two dogs, Woogie and Zoey.
---