| | |
| --- | --- |
| UMSOD Brings Smiles to Special Olympics Athletes | |
---
Written by Adam Zewe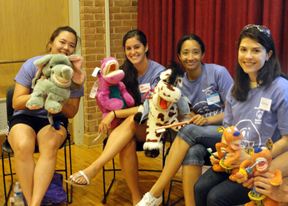 Thanks to a team of UMSOD volunteers, the Maryland Special Olympics athletes were all smiles -- healthy smiles, to be precise. Through the Special Olympics/Special Smiles Program, the team provided free dental treatments during the Maryland Special Olympics at Towson University on June 9.
Seventy-eight volunteers, including School of Dentistry students, faculty and alumni, as well as local dental professionals, treated more than 170 athletes during the busy day of competitions. They performed dental screenings, offered oral hygiene instructions, applied fluoride varnish, produced custom mouth guards and distributed oral hygiene supplies. The complimentary screenings were especially important for many athletes, who lack easy access to dental care, states Associate Professor Sheryl Syme, RDH, MS. Syme and Clinical Instructor Leila Liberman, RDH, BS, organized the 78 volunteers. Dental screenings were among many free health services offered during the Special Olympics, which drew hundreds of competitors and thousands of spectators from across the state.
For the students, the outreach activity was beneficial because they were able to work with a unique patient population. Special Olympics athletes suffer from intellectual disabilities and present different challenges than most patients who visit the UMSOD clinics, explains Syme. "I hope the students feel more comfortable working with individuals who have intellectual disabilities. I want them to know that they can make a big difference for these patients," she says.
Participating in Special Olympics/Special Smiles was an extremely rewarding experience for Brett Kingma, DDS '13. He enjoyed interacting with the patients and congratulating them on their athletic success. "Hopefully, this event broke down some barriers so students realize that they can serve these patients. They need dental care and they need a friend, as well," states Kingma.
Some patients were challenging to treat, so it was even more gratifying to earn their trust, remarks Chris Bailey, DDS '14. He knows that this experience will make him a better dentist. "It's important to remember that you have to see each patient as a person first," Bailey says.
---