| | |
| --- | --- |
| UMSOD Says Goodbye to Rose Walls after 41 Years | |
---
Written by Adam Zewe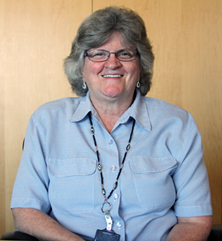 The University of Maryland School of Dentistry bids a fond farewell to Rose Walls, who retired on June 29 after working 41 years for the University of Maryland. Walls, an administrative assistant in the Division of Dental Hygiene, began her career as a secretary for the UM Physical Plant in 1971. She then worked as a secretary at the School of Medicine from 1975 through 1977, before accepting a position as Dental Hygiene administrative assistant, a post she has held for the past 35 years.
She's enjoyed watching the student body change throughout her career. When Walls began, nearly all the Dental Hygiene students were fresh out of college. Today, it is much more common for older students to enroll, some of whom already have families or are changing careers. While Walls may not remember every student who passed through the program, Dental Hygiene alumni who visit always seem to remember her, she says.
Walls considers herself lucky to have had such a rewarding career. She has enjoyed the camaraderie she developed with the hygiene faculty and knows she will miss seeing all the friendly faces at UMSOD. "We're a close-knit group. I wouldn't have worked anywhere else. It's going to take me a little while to get out of dental hygiene mode," she remarks.
In retirement, Rose looks forward to spending more time reading and enjoying her four grandchildren.
---