| | |
| --- | --- |
| Dr. Pae Assumes Leadership of New Department of Orthodontics and Pediatric Dentistry | |
---
Written by Adam Zewe
Eung-Kwon Pae, DDS, MSc, PhD, has been appointed chairman of the newly-created Department of Orthodontics and Pediatric Dentistry. Dr. Pae, who succeeds Interim Department of Orthodontics Chairman Frederick Preis, DDS, assumed leadership on Feb. 26. He also heads the Department of Pediatrics, as Norman Tinanoff, DDS, MS, steps down as chairman of the Department of Health Promotion and Policy and assumes the role of division director for pediatric dentistry.
Dr. Pae joins UMSOD from the UCLA School of Dentistry, where he served as an associate professor of orthodontics and directed the orthodontics residency training program. He was drawn to UMSOD because of the state-of-the-art facilities and open laboratories. "Maryland provides wonderful opportunities to freely approach others within the university community. This collaborative environment really suits me," remarks Dr. Pae.
As chairman, he is excited to enhance the educational mission of the new department. Dr. Pae is preparing to establish a sleep apnea clinic, offering pre-doctoral students, pediatric dentistry residents and orthodontics residents new opportunities for research and clinical training. Since sleep apnea typically affects very young children and adults over age 50, the combined department is well-suited to provide exceptional patient care. "We are going to cover the entire spectrum of growth and development seamlessly, which gives our students a huge educational advantage," Dr. Pae says.
Dr. Pae plans to involve both pediatric dentistry residents and orthodontics residents in his own research. He has studied obstructive sleep apnea for his entire academic career. Despite more than 40 years of research, scientists still don't clearly understand what causes obstructive sleep apnea, Dr. Pae says. He also researches prenatal and postnatal diabetes. By working closely with scientists in other medical fields, Dr. Pae and his colleagues strive to discover better treatments.
He anticipates developing a stronger research component within the new department. "I believe research is vital to clinical activities. Practitioners have to think logically, based on the science they have learned, and apply that knowledge to patient care," says Dr. Pae. He stresses that each patient has unique biology, so individualized care is important for successful treatment.
Dr. Pae enjoys passing his knowledge to residents who will shape the future of dentistry. His teaching philosophy involves more than disseminating wisdom; he endeavors to transfer some of his own integrity to students. "I think it takes more than knowledge to be a good teacher. You must train students to think for themselves and teach them to see things from their patientsý points of view," states Dr. Pae.
He looks forward to collaborating with his new colleagues. In addition, Dr. Pae is excited to work with Dean Stohler, who he considers a great mentor for students, residents and faculty members.
Dr. Pae, a native of South Korea, earned his DDS in 1980 from Yonsei University in Seoul, South Korea. He earned his MSc and PhD degrees from the University of British Columbia in Vancouver, Canada, in 1989 and 1993, respectively. Dr. Pae received a certificate in orthodontics from the University of Connecticut in 1995. He is a member of the International Association of Dental Research and the American Association of Orthodontists.
Dr. Norman Tinanoff to Direct Division of Pediatric Dentistry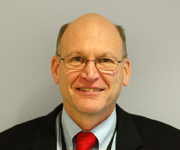 Norman Tinanoff, DDS, MS, has stepped down as chairman of the Department of Health Promotion and Policy, a post he has held since 2003. Dr. Tinanoff will direct the Division of Pediatric Dentistry within the Department of Orthodontics and Pediatric Dentistry. He is excited to continue as division chief. "There is nothing more fun for me than working with a student, exchanging ideas one-to-one and helping that student provide the best possible care for a patient," he remarks.
In his new role, Dr. Tinanoff looks forward to devoting more time to the study of reducing early childhood caries. He is also eager for expanded opportunities to engage in national and state oral health policy issues and serve the American Academy of Pediatric Dentistry.
---