| | |
| --- | --- |
| Simulator Teaches Residents Emergency Skills | |
---
Written by Adam Zewe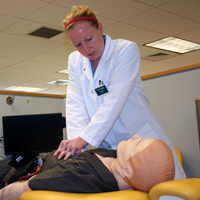 During a routine dental exam, the patient suddenly goes into cardiac arrest. Resident Sara Franz springs into action, ripping open the patient's shirt and starting CPR. He is not breathing, but this patient is not in any danger. Dr. Franz is resuscitating a simulator, a computerized manikin replicating a medical emergency. The drill mimics a true crisis. As Franz calls for help, she attaches an automated external defibrillator (AED) to the simulatorýs chest.
The exercise teaches residents to stay calm and act decisively during an emergency, says Dr. Gary Kaplowitz, assistant director of the Advanced Education in General Dentistry Program. He plans to hold similar trainings twice a year so residents become more accustomed to real-life emergency situations.
The high-tech simulator, provided by the R Adams Cowley Shock Trauma Center, is more than a plastic manikin. It weighs 160 pounds and simulates a pulse and respiration. Detailed computer data allow professors to evaluate many elements of the resuscitation. "This simulator is so high-tech it can tell us if the CPR compressions are deep enough," remarks Dr. Kaplowitz.
For Dr. Franz, the simulator provides a realistic example of a patient in distress. She was surprised by how much weight she had to put into the CPR compressions. During the frantic rescue, Franz used an AED for the first time and learned how to break open the doors of a crash cart. "The simulator is a good learning tool. It felt more real than a classroom lesson. It definitely got my blood pumping," states Dr. Franz.
---