| | |
| --- | --- |
| Educational Technology Brings Dental School Classrooms Home | |
---
Written by Adam Zewe
Barely three weeks old, Ava Evans is the youngest person to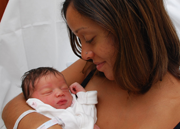 attend the University of Maryland School of Dentistry. The newborn has been watching classes online with her mother, first year dental student Kira Evans. Using Mediasite, the school's lecture capture system, mother and daughter can view class presentations while they cuddle together at home. "Ava may have learned a little something while she's sitting on my lap watching with me," Evans says.
She can watch lectures in real time, but has the ability to pause presentations at any moment to scribble notes or change a diaper. All lectures are stored in online archives through a system the school implemented in 2006.
Mediasite played a major role in Evans' decision to attend UMSOD. After she learned she was pregnant, Evans was unsure how to balance the heavy course load with a new baby. She spoke to professors and administrators who assured her that, by using Mediasite, she'd be able to keep up.
Evans learns at her own pace, which eases some of the stress from being both a new student and a new mother. She especially appreciates seeing the lecture notes appear as the presenter writes on slides. "Mediasite has definitely been a lifesaver. Even though I'm not able to physically be at the school, I'm still able to participate and get all the information. I feel like I'm there," she remarks.
Evans' story is one example of how lecture capture has revolutionized education, says Dr. James Craig, educational consultant in the Office of Information Technology. In another instance, a student used the technology to keep up while recovering from a broken ankle. "Mediasite has carried the classroom home, or anyplace the students want it to be, and has provided them with more control over their learning environment," states Dr. Craig.
Last year, the software captured over 1,100 lectures, which were viewed almost 140,000 times. Students have logged on to watch more than half a million presentations since 2006. Mediasite allows students to rewind or replay lectures, which increases the comprehension of challenging concepts. It also enables the school to offer its curriculum in remote areas, like Cumberland and Lewes, Del.
Dr. Craig and his colleagues are adding more elements to the system. Professors will soon be able to integrate questions into presentations. "That will engage students and give faculty members the opportunity to see whether a particular concept is being learned," remarks Dr. Craig. He is studying the feasibility of streaming lectures on mobile devices, potentially providing another avenue for education.
Higher education may be in the distant future for Ava Evans, but her mother attests that if she decides to pursue dentistry, she'll have quite a head start.
---