| | |
| --- | --- |
| UMSOD Escapes Widespread Damage from Hurricane Irene | |
---
Written by Adam Zewe
Hurricane Irene slammed into Maryland over the weekend, dousing Baltimore in torrential rain and whipping the University of Maryland School of Dentistry with fierce wind. The storm ripped down trees and flooded roads in some areas of the city. Despite the severe weather, UMSOD escaped the hurricane without any damage.
Widespread power outages caused many local schools and businesses to close on Monday, but the school of dentistry was open as usual. While cleanup crews brushed debris from the sidewalk in front of the building, several dental students shared their own hurricane stories: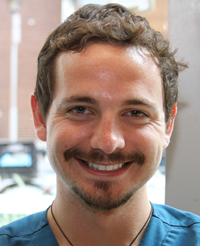 Micah Weisenberg, a first-year dental student, was outside when Hurricane Irene was at its worst. He ended up taking a 2.5-mile run with his dog during the peak of the storm. Weisenberg and his pit bull mix have just moved into a new apartment and the dog, accustomed to taking a run each evening, was getting anxious. "He wouldn't calm down. He just kept jumping on the furniture, which was brand new," Weisenberg remarks. He decided to chance a run in the hurricane and, while the 50-mile-an-hour winds were enough to blow his dog off course, the pit bull slept like a baby when they returned, Weisenberg says. However, he is not anxious to be outside in a hurricane again anytime soon.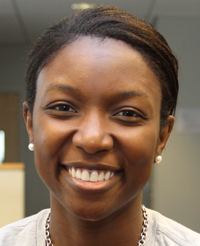 Third-year dental student Serena Mitchual went to work at an Owings Mills gym during the hurricane. On the weekend, the gym hosts children's birthday parties and several stubborn parents refused to cancel their parties despite the severe weather. As the last party wound down on Saturday evening, Mitchual kept a nervous eye on the window and the raging storm outside. "It was very nerve-racking to see all the wind and the rain. I wasn't sure how I was going to get home," she recalls. The drive home was harrowing, but she made it safely and weathered the rest of the storm from her Baltimore apartment.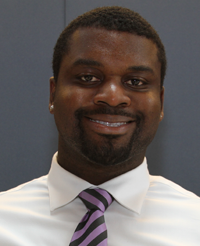 Adrian Cummins, a third-year dental student, touched base with his patients in the aftermath of the catastrophic hurricane. With power outages affecting thousands of homes, schools and businesses, many patients have been forced to reschedule appointments. Flood waters nearly destroyed the Virginia home of one denture patient. The destruction is so severe the patient probably won't be able to return for treatment until October. "We'll find other ways to fill this time right now. It will all break even once the clinics are back up to full speed," states Cummins.
How did Hurricane Irene affect you? Send your stories to azewe@umaryland.edu.
---