contact
Sandra Ringgold
Academic Program Specialist
Cynthia A. Finfrock, RDH, BS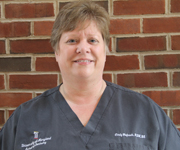 Ms. Cynthia A. Finfrock, RDH, BS received her associates of dental hygiene from the former Community College of Baltimore (CCB) and attended the degree completion program at the University of Maryland School of Dentistry (UMSOD) , receiving her bachelor's degree in 1998. She was awarded the Degree Completion Student Leadership award.
She has worked extensively in private dental practices for 27 years as a registered dental hygienist and currently works in the Faculty Practice of UMSOD. Ms. Finfrock is trained and licensed in local anesthesia and the monitoring of nitrous oxide. She is involved with two research projects alongside other dental hygienists.
Ms. Finfrock is actively involved in the American Dental Hygienist Association (ADHA) where she has served as delegate and alternate delegate to ADHA House of Delegates for both Maryland and Pennsylvania. She is also active in the Maryland Dental Hygienists' Association (MDHA) as a past newsletter editor and as delegate and alternate delegate to MDHA House of Delegates. She currently is Vice President of The Greater Baltimore Dental Hygienists' Association (GBDHA) where she handles course registration and manages the website. While residing in Pennsylvania, Ms. Finfrock held the position of president of the Pennsylvania Dental Hygienists' Association and chaired numerous councils and committees.