contact
Sandra Ringgold
Academic Program Specialist
Ms. Jacquelyn L. Fried, RDH, MS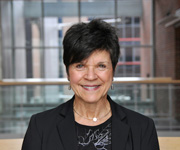 Ms. Jacquelyn L. Fried, associate professor, director of interprofessional initiatives and acting graduate program director, holds a bachelor's degree in political science and a certificate in dental hygiene from the Ohio State University. She earned her master's degree in dental hygiene from Old Dominion University.
Ms. Fried has been in dental hygiene education for over 30 years. Her research interest areas include administration in higher education, tobacco prevention and cessation with focuses on the role of the dental hygienist, epidemiologic issues, and genetic influences related to addiction. Of late, she has been engaged in public speaking addressing oral cancer and HPV and publishing articles on infection control.
Ms. Fried is actively involved with the American Dental Hygienists' Association (ADHA), serving as a member of its editorial review board, Council on Research and the Tobacco Intervention Task Force and the Council on Education. She also is a delegate to the 2010 American Dental Education Association's Annual Session, representing the Council on Allied Dental Education. Ms. Fried is published widely, has received awards for her teaching abilities and is a previous recipient of the Warner Lambert/ADHA Award for Excellence in Dental Hygiene.
COURSES
DHYG 410: Seminar in Dental Hygiene I
DHYG 412: Perspectives in Dental Hygiene Practice
DHYG 425: Issues in Health Care Delivery
DHYG 426: Scientific and Professional Communication
Ms. Fried also engages in clinical teaching.