contact
Sandra Ringgold
Academic Program Specialist
Deborah L. Cartee, RDH, MS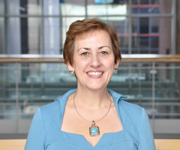 Ms. Deborah L. Cartee, RDH, MS is Assistant Professor and Junior Clinical Coordinator in the Dental Hygiene Program at the University of Maryland School of Dentistry. She earned her M.S. in Management (Health Care Administration Track) at the University of Maryland, University College, B.S. degree in dental hygiene at the University of Maryland School of Dentistry (UMSOD), and an A. A. degree in dental hygiene at Baltimore City Community College (BCCC). Ms. Cartee has over 35 years of clinical experience, and has been teaching full-time for the last 14 years. She has been the course coordinator for numerous didactic courses including: Prevention and Control of Oral Disease I, II, Fundamentals of General Pathology, Oral Radiology, Dental Materials, Oral Histology & Embryology, Head and Neck Anatomy, Ethics, Introduction to Oral Health Research and Co-Director of Dental Pain Management and Sedation. She was awarded Teacher of The Year by the Junior Class: 2010, 2011, 2012, 2014 & 2015.
Ms. Cartee is the course director for Nitrous Oxide Administration and Monitoring by the Dental Hygienist, and she also teaches the laboratory component of the Local Anesthesia for Dental Hygienists CEU.
Along with entry-level teaching,, she also mentors degree completion students at UMSOD, resulting in publications in the Journal of Dental Hygiene, Dimensions of Dental Hygiene and Access. Her scholarly work includes presenting scientific posters at ADHA and the American Dental Educators Association (ADEA) annual sessions; and the following grant supported research projects:
2009-2010 Dental Sealant Demonstration Project
2010-2011 Oral Health Survey of Maryland
2013-2014 A multi-centered clinical trial, single blind, split mouth study concerning the efficacy of numerous periodontal treatments including laser therapy
2015-16 Oral Health Survey of Maryland
Ms. Cartee is an active member of the American Dental Hygienists' Association (ADHA). She is the current Maryland State Educators' Network Representative for ADHA, and serves the following roles: Continuing Education Peer Review Panel, Maryland Delegation Chair, District III Reference Committee Chair and national graduate poster judge for ADHA. Her past leadership roles have included: component and State President, legislative chair, national teller, and Student American Dental Hygienists' Association (SADHA) advisor. She was awarded the Maryland Dental Hygienists' Association "Symbol of Excellence" award in 2012. Additional memberships include ADEA, Sigma Phi Alpha and Phi Kappa Phi Honor Societies.
As MDHA legislative chair, she constructed bills, lobbied and provided written and verbal testimony in Annapolis leading to successful passage of legislation influencing the dental hygiene scope of practice in Maryland; including, allowing dental hygienists to administer local anesthesia and nitrous oxide, providing dental health screenings at health fairs without dental supervision and providing direct access to patients in long term care facilities. Ms. Cartee was recently appointed by Governor Larry Hogan to serve on the Maryland Commission for Women. Her career goal has been empowering women to be independent future leaders.
RESUME HIGHLIGHTS
Teacher of the Year, University of Maryland, Dental Hygiene Class of 2010, 2011, 2012, 2014, 2015
2012 MDHA Symbol of Excellence Award
Commissioner; Maryland Commission for Women
Junior Clinic Coordinator
Maryland State Educators Network Representative, ADHA
SADHA and Faculty Advisor, UMSOD
Faculty Assembly Treasurer
Chair, UMSOD Faculty Affairs Committee
UMSOD Faculty Council
UMSOD Admissions Committee
UMSOD Dental Hygiene Progression Committee
UMSOD Scholarship Committee
Co-Chair UMB Outreach Council
Delegate Chair, ADHA
Judge, Graduate Posters, ADHA
Delegate, ADHA
Past President, MDHA
Legislative Chair, MDHA
Past President, Western Shore Dental Hygienists' Association
Expert Witness, Nitrous Oxide Legislation
Course Director: CEU Nitrous Oxide Administration for the RDH
Laboratory Instructor: CEU Local Anesthesia for the RDH
International Dental Mission for the 20th Anniversary Operation Smile Vietnam, 2009 Volunteer
Mission of Mercy Project Volunteer 2011 Western MD, 2012 Southern MD, 2013 Eastern Shore
Membership: Quill and Scroll Society, Sigma Phi Alpha, Phi Theta Kappa, American Dental Education Association (ADEA), American Dental Hygienists' Association (ADHA)
COURSES
Junior and Senior Dental Hygiene Clinical Instructor
DHYG 311: Prevention and Control I
DHYG 321: Prevention and Control II
DHYG 312H: Oral Histology and Embryology
DHYG 324: Methods and Materials in Dentistry
DHYG 316: Oral Radiology I
DHYG 425: Issues in Healthcare Delivery
DHYG 416: Introduction to Oral Health Research
CEU: Nitrous Oxide Administration and Monitoring for the Dental Hygienist-Director
Local Anesthesia Administration for the Dental Hygienist-Laboratory