Basic Ultramicrotomy Minicourse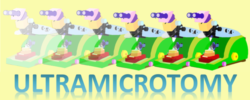 Date: October 26-27, 2015
Location: University of Maryland Baltimore, Electron Microscopy Core Imaging Facility (EMCIF)
Instructor and demonstrator: : EMCIF Director (Dr. Ru-ching Hsia) and staff
Scope of aims: To promote the knowledge and skills of basic ultramicrotomy techniques.
Targeted participants: Individuals who wish to learn basic ultramicrotomy of resin embedded biological specimen. No experience required
Format: Lecture, demonstration and hands-on practice
Techniques covered: Trimming, semithick sectioning, Ultrathin sectioning and trouble shooting
Instrumentation: Ultramicrotome (Leica UC6 and UC7)
---
Registration Fee: $600 ($550 if also attend Aurion IGSS workshop, see below)
Participants: maximum 6
Basic Ultramicrotomy Minicourse Registration Form
Mail registration form with payment to "EMCIF, BRB7-037, 655 West Baltimore St, Baltimore, MD 21201"
A list of nearby hotels that offer special rate for UMB guests is available upon request, please contact EMCIF.
---
Payment Method:
| | |
| --- | --- |
| By check | Make check payable to "UMB EM Facility Workshop" |
| By Credit card | Provide credit card information on the registration form |
---
A seperate Aurion Immunogold and Silver Staining (IGSS) Workshop will be held on October 28 to 30 immediately after the ultramicrotomy minicourse.
More information of Aurion IGSS workshop
Inquiry: Email coreimaging@umaryland.edu
---
Basic ultramicrotomy minicourse tentative agenda ▾

Basic ultramicrotomy minicourse preliminary agenda
10/26

9:00 to 9:50

The anatomy of ultramicrotomes


Types of sectioning instrument
Mechanism of ultramicrotomes
Functionality of ultramicrotomes and accessories

10/26

10:00 to 10:45

All about Knives


Types of diamond knives
The usage and care of diamond knives
Glass knives, pros and cons.

10/26

11:00 to 12:00

Ultramicrotomy of resin embeddedbiological specimen:
workflow & general practice

Shaping sample pyramid & trapezoid block face
Smoothing block face
Pre-sectioning, semi-thick sectioning
Ultrathin sectioning

Section pick-up

Lunch Break

10/26

1:00-5:00

Demonstration: Manual trimming and ultramicrotome trimming
Demonstration: Making glass knives, eyelash tools and cleaning diamond knives
Hands-on Practice

10/27

9:00-10:00

Ultrathin sectioning clinics




Common problem troubleshoot
Special sectioning: Sectioning flat specimen (monolayers, filters etc)
Tricks to locate diluted specimen in blocks
Tricks to section poorly embedded specimen (soft blocks)
Directional sectioning

Serial sections

10/27

10:00-10:30

Q & A

10/27

11:00-12:00

Hands-on Practice
Lunch Break

10/27

1:00-5:00

Hands-on Practice