2014 Current Electron Microscopy Techniques Workshop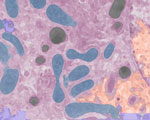 **** 2014 Workshop has been successfully completed ****
Tentative dates for 2015 workshop are May 28 and 29, 2015.
Please check back for more information or email UMBCurrentEMWorkshop@umaryland.edu to be on the mailing list.
The aim of the Current EM Techniques Workshop is to introduce new electron microscopy techniques and instrumentations via live demonstration and open discussion.
The focus of this year's workshop is cryo EM sample preparation and cryo-EM.
Date: June 2 -3, 2014
Location: University of Maryland Baltimore, Core Imaging Facility
Format: Scientific presentations, live demonstrations, personal sample tryout, tips and tricks discussion forum lead by technical experts from Gatan, Leica, FEI etc.
---
Featured instruments:
High pressure freezer
Automated freeze substitution system
Cryo ultramicrotome
Grid plunger
Cryo-transfer holder and cryo-TEM
Cryo-transfer system and cryo-SEM
Speakers:
Keynote speaker: Dr. Peijun Zhang, University of Pittsburgh, Department of Structural biology
Cryo sample prearation: Dr. Kim Rensing, Leica Microsystem
Correlative LM-EM solutions: Dr. Gregor Heiss, FEI. Co
CMMS dinner speaker: Dr. Elizabeth Chen, Johns Hopkins University, Department of Molecular Biology & Genetics
Tips and Tricks panelist: Dr. Ulrich Baxa, Frederick National Laboraory for Cancer Research
Tips and Tricks Panelist: Ms. Carol Cooke, Johns Hopkins University
Tips and Tricks Panelist: Dr. Haifeng He, FEI. Co
---
Closing date: May 30th, 2014 Noon.
Travel: Workshop participants are strongly encouraged to use various modes of public transportation to reach UMB. If you wish to drive to the workshop, parking garages are avaialbe around UMB campus. Plesae refer to the directions below;
Lodging: Special conference rate accomondation in Holiday Inn- Baltimore is already expired. Please e-mail UMBCurrentEMWorkshop@umaryland.edu if you need assistance for other hotel reservation.
Sponsors: Leica Microsystems; FEI.Co; Gatan, UK.; Electron Microscopy Sciences-Diatome.US.
---
Program: Download from HERE‌ (updated on May 26, 2014)
Othere enquiries: please e-mail UMBCurrentEMWorkshop@umaryland.edu