contact
Office of Continuing Education/Dean's Faculty
Local Anesthesia/Pain Control: Review and Refresh for the Dental Hygienist
Saturday, February 10, 2018, from 8 a.m. until 12:00 p.m. at the University of Maryland School of Dentistry
Speakers: Marion C. Manski, RDH, MS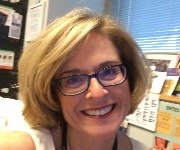 Marion C. Manski, RDH, MS, earned her certificate and associate's degree in 1983 from The Forsyth School for Dental Hygienists and Northeastern University in Boston, Mass. She earned her bachelor's degree in dental hygiene at the University of Maryland School of Dentistry in 1988. Ms. Manski also graduated from the University of Maryland Graduate School with a Master's degree in 2004. In 2006, she became certified in the administration of Local Anesthesia (CT). She is an ssociate Professor and Director of the Dental Hygiene Program.

Course Description
This course will be a review and refresher course for those that desire to focus on the Inferior Alveolar Nerve Block (IANB) Local Anesthesia and provide the student with didactic and clinical laboratory components in to perform the IANB in addition to their current infiltration local anesthesia. It is also for hygienists who desire an update or refresher to hone their skills in local anesthesia. In addition, this course is for those dental hygienists who have already completed the 28 hour required course in Maryland and will need a refresher on the IANB according to SB 344 and HB 172. Thus, this course will provide the needed requirements to perform the IANB, but also update the already certified hygienist in local anesthesia and update and increase their confidence and skill level. The course will provide new technologies and updates for the dental hygienist.
Course Objectives
Review anatomy and the neurophysiology of pain
Update the RDH regarding the use of vasoconstrictors
Review medical and local complications/concerns/emergency procedures
Discuss techniques for administration focusing on the IANB
Discuss troubleshooting for the IANB injection and alternate techniques
Update the RDH regarding new technologies in local anesthesia
Properly administer the IANB and other injections to review and refresh
Tuition:
Dental Hygienist $295.00
Credits: 4 CDE credit hours/lecture and hands-on
Required Texts:
Malamed, Stanley; "Handbook of Local Anesthesia," sixth edition
Fehrenbach, Margaret; Herring, Susan; "Illustrated Anatomy of the Head and Neck," fifth edition
Target Audience: Dental Hygienists
Limited to 24 participants.