contact
Sandra Ringgold
Academic Program Specialist
Predoctoral Prosthodontics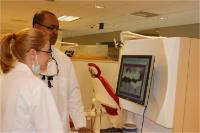 ‌Prosthodontics plays an integral role in the education of every dental student from the beginning of the second year with the preclinical program through the third and fourth years in the clinical program.
In the pre clinical program the student is introduced to the principles and concepts of fixed and removable prosthodontics through didactic instruction and advanced clinical simulation. These principles are reinforced and built upon in our third year didactic courses and through clinical experiences in patient care.
Opportunities are available to provide state of the art treatment using the most modern materials from the restoration of a single tooth to larger, multiunit restorations. Students gain experience in implant dentistry by the routine restoration of single tooth implants and mandibular implant overdentures. Opportunities to gain advanced education and experience in implant dentistry are available in the implant clerkship program for selected students. Experiences with advanced esthetic procedures including porcelain veneers and other all ceramic restorations are also available. Cad-cam restorations and other forms of digital dentistry are just being introduced to the program consistent with our commitment to technological advancement.
We have a dedicated and highly experienced faculty and support staff committed to dental education and as such enjoy a very positive and interactive relationship with our students. Our full-time faculty are all trained prosthodontists with many years of clinical experience as well as many years of experience in teaching. They are supported by committed part-time and volunteer Dean's Faculty who bring a slightly different perspective to the process. Also, our laboratory staff play an active role in teaching in addition to their other duties.