Online Application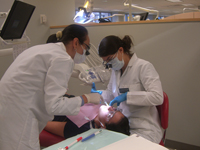 Please read all instructions below before completing your on-line application. The online application is available November 1 until February 1. We suggest that you reserve about 30 minutes to complete this application. You will create a Personal Identification Number (PIN) and Password. Your PIN and Password enables you to return to your application as many times as you wish before your final submission to the University of Maryland School of Dentistry.
You may also check the status and progress of your application on-line by logging back into SURFs from the 'Check Application Status link above. Make sure you use the same PIN and password each time you log-in.
All of your information is transmitted through a secure server and is kept fully confidential. Your application information and supplemental materials are reviewed by the Dental Hygiene Admissions Committee for the following: completeness of application, completion of required courses, GPA of required science courses, overall GPA of required courses, overall academic record (including repeats, failures, withdrawals, etc.), personal statement and quality of recommendation letters.
General Guidelines
Before completing the on-line application, please review the Dental Hygiene Bachelor of Science degree admissions requirements and guidelines.
Note; at the end of the electronic application you must print out the signature page, enclose with your payment, transcripts, letters of recommendation, photo and application for in-state status.
Instructions for Applying On-Line
Once you log into the on-line application following the instructions provided by the "First Time Applicants Click Here" link, you will first select an 'Application Term' and an 'Applicant Type' from the drop-down menus; the 'Applicant Type' is the program to which you are applying.
Follow the on-line instructions for completing the application in its entirety paying special attention the required items; be sure to complete each section of the application under the 'Application Checklist'
Select DHYG Bachelor of Science
Final Notes and Reminders about the On-Line Application
You may stop and save your work to continue at a later time while completing the on-line application. Please note, however, your application will not be reviewed or considered until it is submitted successfully, and all supplemental materials and your $80 application fee are received. Before you click the 'Submit' button of your on-line application print each page for your records.
CLICK HERE TO BEGIN THE PROCESS!

NOTE: While you may check the status and progress of your application on-line by logging back into SURFs, you may not make further modifications (changes, additions, etc.) to it on-line once it has been electronically submitted. Any corrected or additional information must be sent to the University of Maryland School of Dentistry, Dental Hygiene Office of Admissions by postal mail or email at dhadmissions@umaryland.edu. Please do not attempt to update your application by re-submitting it again.