‌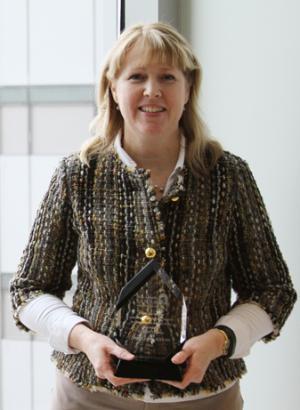 For her work to educate oral health professionals about detecting and reporting potential cases of abuse or neglect in their patients, Sheryl Syme, RDH, MS, was honored recently by Mid-Atlantic P.A.N.D.A. Coalition, a non-profit organization with the mission to Prevent Abuse and Neglect through Dental Awareness.
In November she was presented an award that reads: "Thank you for your unending dedication and support in advancing the mission of the Mid-Atlantic P.A.N.D.A. Coalition.
Ms. Syme, an associate professor at the University of Maryland School of Dentistry, volunteers as Education Director for Mid-Atlantic P.A.N.D.A., an all-volunteer regional organization founded in 2000 and serving Maryland, Delaware and Washington, D.C.
The award was presented in honor of her having helped the organization put together a range of training courses over the years to help dentists and dental hygienists with the details of identifying and reporting suspected cases of abuse.
Dentists and hygienists, she said, are particularly well-positioned to identify abuse victims.
"Head and neck areas are most often the targets of physical abuse, especially in children," she says, noting that in children abuse is inflicted in those areas about 75 percent of the time.
Reporting suspected abuse isn't necessarily as easy as picking up the phone or sending an email, though. In cases involving children, reporting is mandatory and the process of notifying child protective services is fairly straightforward. When reporting cases involving adults, however, a range of different protocols come into play, and Ms. Syme says teaching oral health professionals about these protocols is part of what she has helped coordinate over the years.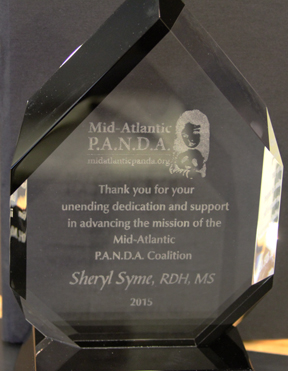 For example, she says, most adult victims need to grant permission before a report can be made, and Mid-Atlantic P.A.N.D.A. offers guidance on how to encourage victims to make reports.
The organization also offers continuing education courses on a range of topics. Identifying and dealing with cases of human trafficking was added recently to the organization's focus. The organization's areas of focus also include child abuse, child neglect, domestic violence and abuse or neglect of vulnerable adults.
"It's really a fantastic organization to be a part of," Ms. Syme says.