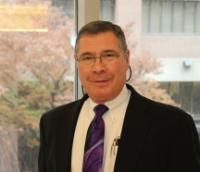 The appointment of Louis G. DePaola, DDA, MS, to the Maryland Board of Dental Examiners marks the first time a fulltime faculty member of the University of Maryland School of Dentistry has been named to the Board.
The Board of Dental Examiners' history notes the Maryland General Assembly in 1840 granted a charter for the Baltimore College of Dental Surgery, the first dental school in the world, and then 44 years later established the Dental Board to formally regulate the practice of dentistry.
Dr. DePaola, however, is looking to the future rather than into history as he begins his four-year term after having been appointed by Gov. Larry Hogan.
"My 40 years of experience in education, patient care and research have given me a broad knowledge of technological and other challenges that will confront dentistry in the coming years," Dr. DePaola says of his new role. By way of example, he cites the increasing role dentists are likely to play in diagnosing a range of conditions and illnesses.
The role of dentists is increasing in testing, or otherwise being on the lookout, for conditions including, cancer, diabetes, hypertension, HIV and a range of infectious diseases, Dr. DePaola says. At present, he notes, dentists are enabled to screen for some, but not all, of the conditions for which they are well-positioned to detect. Additional diagnostics are, Dr. DePaola says, an enhancement of dentistry as such tools can contribute to improving the overall health of the patients being served.