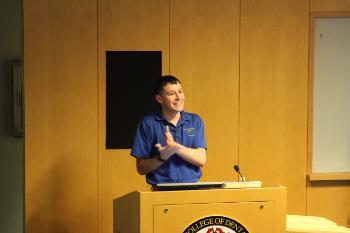 Andrew Klish, DDS '14, has been busy doing his residency with the Army since graduating from the University of Maryland School of Dentistry, but he managed to find some time on October 26 to make a presentation at his alma mater.
As a student, Klish wrote an article, in collaboration with Interim Assistant Dean of Admissions and Recruitment Judith Porter, DDS, EdD; and Nasir Bashirelahi, PhD, entitled "What every dentist needs to know about the human microbiome and probiotics."
Dr. Klish addressed students about human microbiome and probiotics which indicate it may be possible to eradicate harmful oral bacteria and replace them with strains that are helpful. Dr. Bashirelahih organized the event and invited Dr. Klish to make the presentation.
"It was good," Dr. Klish said of his recent visit and lecture, speaking by phone from his post at Fort Bragg in North Carolina where he is doing his residency. While attending Maryland, Dr. Klish was in the Army Reserves and held the rank of second lieutenant; upon graduation he was promoted to captain.
At Fort Bragg, the demands of Army life are keeping Dr. Klish busy, but it's something he was prepared for.
"My dad was an Air Force dentist," Dr. Klish said.
Personally, Dr. Klish said highlights of his visit to Baltimore included being able to talk with other students who are involved with the armed forces, including one who had begun training.
"We were able to reminisce about basic," Dr. Klish said.
He also was happy to get the chance to enjoy some of the local cuisine. Though not a big fan of crab cakes, the Frederick native was happy to enjoy a meal at the Café on the Square as well as a stop at a favorite Halal food cart at Hopkins place.
Dr. Klish also said he'd be happy to return for a similar engagement in the future.