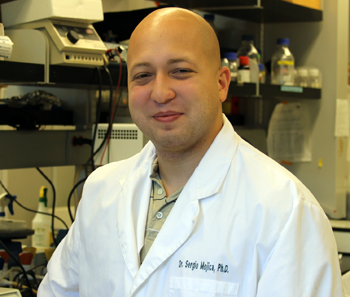 Chlamydia is one of the world's most prevalent pathogens, causing more than two million new infections in the U.S. each year alone. Despite years of study, scientists are still unsure exactly how this pathogen interacts with the cells it infects. But trailblazing research conducted by University of Maryland School of Dentistry graduate student Sergio Mojica, PhD, has shed new light on how Chlamydia infects.
Mojica, working in the lab of Patrik Bavoil, PhD, chair of the Department of Microbial Pathogenesis, set out to develop a deeper understanding of Chlamydophila psittaci, a deadly strain of the pathogen that infects birds. He studied the proteins secreted by Chlamydophila psittaci bacteria to see how these proteins, called effectors, infiltrate infected cells. After months of trial-and-error study, Mojica made a novel discovery when he identified an effector that infiltrates an infected cell's nuclear envelope, which is the thin membrane that separates the inside of the cell's nucleus from the outside.
"This nuclear envelope effector is the first bacterial protein that has been shown to localize to this area of the cell," Mojica says. "This could open a whole new area of research. If this effector is causing a change in the nuclear envelope, it could also inform cell biologists of what the proteins in the nuclear envelope are doing. It could become a research tool to understand more about this part of the cell."
Mojica, who published his findings in the journal Molecular Biology of the Cell in March, is excited for the implications this new research holds for future studies. Effectors secreted by Chlamydophila psittaci and other bacteria change the cellular environment of infected cells, which enables the bacteria to cause disease, Mojica explains. The Chlamydia bacteria then infect the cells, grow inside them and eventually kills the cell, before spreading to other cells and repeating the process. Developing a deeper understanding of how these Chlamydia effectors work could ultimately lead to more effective treatments.
"There is still a lot about this process that we don't understand," Mojica says. "Chlamydia is a very successful bacteria – it infects millions of people each year. We still have a lot of unanswered questions to ask and a lot of areas to investigate."