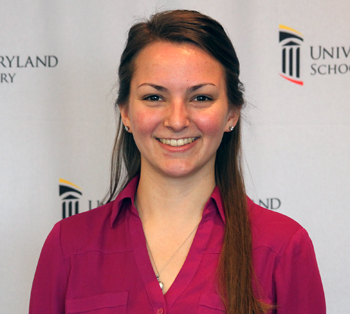 Amy Seagraves, DDS '17, has received a Dr. Charles W. Hennessy Scholarship, which is awarded each year to students who demonstrate financial need and a dedication to pursuing academic excellence. "It feels good to be recognized for my efforts," Seagraves says. "I'm very grateful to the donors who support this award."
Seagraves' interest in dentistry was sparked by her orthodontist, who she began seeing at the age of 7. She was never afraid to visit the dentist or orthodontist; rather, Seagraves became fascinated by all the different aspects of her own oral health. "I chose dentistry for career day when I was in eighth grade and I've never looked back," she says.
The Ohio native was set on attending The Ohio State University College of Dentistry, but after seeing the cutting-edge facility and meeting dedicated faculty members during her interview at UMSOD, she quickly changed her tune. Since enrolling, she has taken a strong interest in orthodontics. As a member of the Orthodontics Interest Group, Seagraves has enjoyed the opportunity to learn more about the specialty from faculty and private practice orthodontists.
One of her most rewarding experiences as a student has been volunteering with the tutoring program Bridge for Academic Excellence. As a member of this campus-wide program Seagraves tutors middle and high school students in science, English and SAT preparation. The experience has enabled her to develop stronger teaching and communication skills, which are critical for oral health care providers, she says. "It's important to provide a patient with a clear understanding of a procedure so they'll be more willing to follow your advice," she says.
Seagraves is looking forward to putting those communication skills to use the clinic. While graduation still seems a very long way off, she is already considering an orthodontics residency. In her spare time, Seagraves enjoys yoga, reading and watching Netflix.