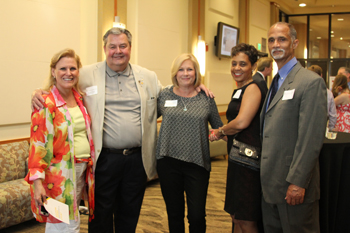 More than 200 graduates returned to their alma mater for the University of Maryland School of Dentistry's 2015 All Alumni Reunion Weekend, held from May 29 to May 31. The busy weekend of events drew alumni of all ages, from members of the Class of 1950 to those who graduated only a few years ago.
The festive weekend kicked off on Friday, May 29, with an opening reception at the University of Maryland, Baltimore's Southern Management Corporation Campus Center. Alumni enjoyed the opportunity to mingle with old friends and former faculty members.
"It is so good to be back on campus," said Sandra Osborne, RDH '08, a faculty member at Howard University. "Events like this are so important for mentoring and networking. As alumni, we all share a sense of family."
Lawrence Brant, a member of the Class of 1955, traveled from Miami to swap stories and spend time with his classmates. "I have very fond memories from my time in dental school," said Brant. "This school enabled me to launch my career."
Dean Mark A. Reynolds, DDS '86, PhD, MA, greeted the alumni and thanked them for giving back to their alma mater. "Throughout the school's history, our tradition of excellence in dental education, research and service has been safeguarded through the dedication and support of our alumni and friends," said Reynolds.
As the reception continued, a special ceremony honored this year's alumni award winners. Stanley Block, DDS '58, was named the 2015 Distinguished Alumnus of the Year and Ann Eshenaur Spolarich, RDH, MS '88, PhD, received the Linda DeVore Dental Hygiene Alumnus Award.
On Saturday, alumni visited the School of Dentistry for a complimentary ice cream social and tours of the state-of-the-art facility and the Dr. Samuel D. Harris National Museum of Dentistry. Leonard Schneider, DDS '58, a Florida resident, was very impressed by the high-tech preclinical simulation labs and all-digital clinical operatories. "My eyes were popping out seeing all the computers," said Schneider. "It's great that students have the opportunity to use all the latest technology."
During the Alumni Association's annual business meeting on Sunday, the reins were officially passed to incoming Board of Directors President Bradley Trattner, DDS '88. In addition, three new members joined the Alumni Association board: Jane Casper, RDH '99, Shari Kohn, DDS '90 and Karl Pick, DDS '66. "The future of dentistry is here in this building," Trattner said during the meeting. "We need to do all we can to support the school and its students."
The weekend concluded with a special luncheon honoring the Class of 1965 and all other alumni who graduated more than 50 years ago. The members of the 50-year class were presented with certificates honoring their achievement and they received an exclusive tour of the building.
Click here to see photos from all of the weekend events.