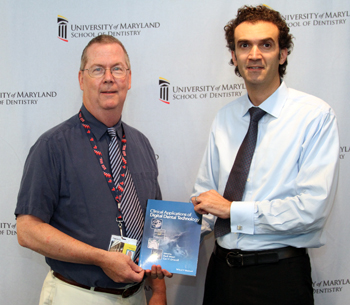 Since the turn of the 21st century, digital technology in dentistry has exploded into the mainstream. University of Maryland School of Dentistry (UMSOD) faculty members have produced a new learning tool for the digital age – one of the first comprehensive textbooks that focuses on clinical applications of these emerging technologies.
The book, Clinical Applications of Digital Dental Technology, which was recently published by Wiley-Blackwell, contains a detailed overview of many of the most important digital technologies, such as digital radiography, digital impressions, virtual planning and CAD/CAM (computer-aided design/computer-aided manufacturing). Co-editors Carl Driscoll, DMD, professor and director of the postgraduate prosthodontics program, and Radi Masri, DDS, PhD, MS, associate professor in the Department of Endodontics, Prosthodontics and Operative Dentistry, set out to develop a textbook that would be practical for many different audiences, from dental students to practicing dentists and specialists.
"The book outlines the advantages and disadvantages of different pieces of equipment, so practicing dentists could use it to decide what technology to acquire for their office," Masri says. "For students, it is a good reference point to learn about all the different technologies that are available."
Many contributors to the textbook are faculty members at UMSOD, including Clinical Assistant Professor Ira Bloom, DDS '72, Professor Ashraf Fouad, DDS, MS, Associate Professor Gary Hack, DDS '79, Clinical Assistant Professor Joana Kempler, DDS, and Associate Professor Jeffery Price, DDS, MS.
The time is right for a textbook like this, Masri says, since the prices of digital dental technologies continue to drop and the cutting-edge equipment is becoming more and more common in dental offices around the world. And new advances are continuously emerging. For example, the textbook concludes with a chapter focused on the virtual patient, a new dental technology that is just beginning to take hold. A digital patient provides a customizable teaching tool that could be used to evaluate students' performance in many different simulated situations. From the classroom to the clinic, digital technology holds huge implications for nearly every aspect of the dental profession, Masri says.
"The most important lesson about digital dental technology is that it is here to stay," he says.