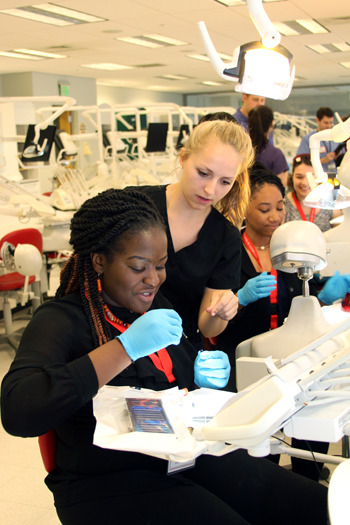 Where could a career in dentistry take you? Forty college students learned the answer to that question during the Dentistry Today program, held at the University of Maryland School of Dentistry (UMSOD) from June 9-11.
The annual program familiarizes college students with the profession of dentistry and introduces them to the cutting-edge technology and unique educational experiences available at UMSOD. The students heard lectures about the different dental specialties, observed dental students working in the clinic and enjoyed an up-close look at the profession's past during a tour of the Dr. Samuel D. Harris National Museum of Dentistry. They also collaborated with first-year dental students for hands-on training in the simulation lab.
The hands-on experience was the highlight of the program for Aislinn Scully, a senior at Towson University. The Frederick, Md., resident took an interest in dentistry after learning about the profession from a family friend who works as an endodontist. A dental career appeals to her because of the impact dentists have on their patients' lives. "I like the idea of being able to help improve someone's health and restore their confidence," she says.
For Tenley Bands, an Annapolis resident who is earning her master's degree at Rutgers University, the Dentistry Today program was beneficial because it introduced her to the many different aspects of the dental profession. She was impressed by the high-tech facility at UMSOD and the dedication of faculty members. "The faculty members who presented seem to really care about contributing to the field of dentistry and teaching students to be the best oral health care providers they can be," she says.
The Dentistry Today program, which was founded in 1975, continues to provide important opportunities for aspiring dental students. Since 2010, nearly 25 percent of Dentistry Today participants have matriculated into the dental program at UMSOD.
Those statistics showcase how important the Dentistry Today program is, says Andrea Morgan, DDS '90, clinical assistant professor and dental recruitment coordinator, who organized the program. "Dentistry Today not only gives the students a good glimpse of the different specialties, it also allows them to see the passion that our faculty have for the profession," she says. "It gives them an idea of the many programs that we offer here at UMSOD and it shows them who we are as an institution."