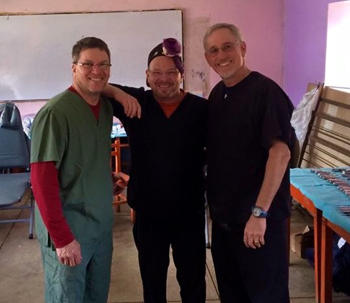 University of Maryland School of Dentistry alumni Jay A. Miller, DDS '86, Howard Novak, DDS '86 and Rob Gordon, DDS '86, traveled to tiny villages high in the Andes Mountains in the South American nation of Peru to provide free oral health care for the underserved.
The three dentists led a 10-day mission trip through some of Peru's most remote regions. This excursion marked the seventh annual mission trip organized by the former classmates. A team of 30 people, including assistants, pre-dental college students and high school students, collaborated to provide cleanings, restorative care and extractions for hundreds of adults and children, most of whom had never received oral health care services. "Without X-rays and handpieces, it is a totally different type of dentistry," said Miller. "You don't know what you've gotten yourself into until you've gotten yourself out of it."
One of the biggest challenges they faced was the language barrier between provider and patient. The villagers speak an ancient Incan dialect called Quechua, so the team had to utilize two interpreters – one to translate the Quechua into Spanish and then one to translate the Spanish into English. "There were always two people between us and the patient," says Miller. "By the time we'd get an answer to a question, it could be 20 minutes later."
Despite the challenges of providing dental care in these poor villages, Miller says the experience was extremely rewarding. He and his companions saw so much gratitude in the eyes of the people they helped. It felt great to be able to serve others while enjoying the sweeping views from some of South America's tallest peaks, he said.
But for Miller, who brought his teenage children on the trip, the opportunity to serve some of Peru's poorest residents also proved to be the ultimate teachable moment. "You try and tell a teenager that they don't know how lucky they are. They shrug and say, 'I know, Dad.' But they don't really have any idea until they see something like this."
Next year, Miller and his teammates are planning to lead a dental mission trip to the earthquake ravaged areas of Nepal.