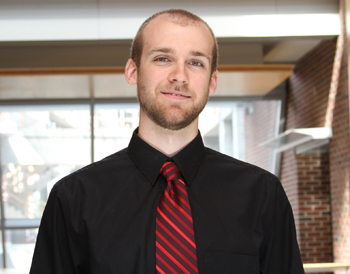 When it comes to evaluating how well a crown fits on a tooth, a few thousandths of a millimeter can make an immense difference. A new research project conducted by prosthodontics resident William Wahle, DDS, will evaluate the effectiveness of using X-rays to study those miniscule margins of error on different types of dental crowns.
Wahle recently received a $3,900 Stanley D. Tylman Research Grant from the American Academy of Fixed Prosthodontics to fund his project, which focuses on the marginal opening that exists between a crown and the tooth it is placed on. When placing a crown, dentists and prosthodontists attempt to minimize the marginal opening, and may end up remaking a crown once or several times to ensure that it fits as snugly as possible. But the margins surrounding crowns can be notoriously difficult to effectively examine using an X-ray, Wahle says. "Metal crowns usually show up differently on an X-ray than newer ceramic crowns that don't contain metal," he says. "These crowns tend to be more transparent on radiographs and more difficult to assess because of that."
He will produce many different crowns, of metal and more translucent ceramic materials, and then take numerous X-rays of all the crowns at several different angles. Using a micrometer, he will set different marginal openings for each X-ray. Wahle will then review each X-ray individually with several dentists and prosthodontists to see if they can reach a consensus on whether the marginal opening is accurately determined. "If we determine that there definitely is a difference in how we perceive a crown to be fitting, using one material or the other, we may need to start doing more research in how radiographic appearance alters our perception of fit," Wahle says. "We may even need to start teaching our students differently so they know what to look for depending on the type of crown they are placing."
Wahle is excited for the future implications of this research, which could also be applied to new materials that have yet to be developed.