For the second time in three years, the University of Maryland School of Dentistry student chapter of the Hispanic Dental Association has been honored as the recipient of the University of Maryland Baltimore Dr. Martin Luther King Jr. Diversity Recognition Award in the category of outstanding student group.
Specifically, this year's honor recognizes the student organization's efforts to provide oral health education, screenings, and dental care to the Hispanic community through outreach projects with the Washington, D.C., area community of Langley Park as well as Wolfe Street Academy, a community school operated by the Baltimore Curriculum Project and serving more than 200 elementary school students.
The Hispanic Dental Association chapter has been working with the Langley Park community for the past 15 years and with the Wolfe Street Academy for eight years.
University of Maryland Baltimore President Jay Perman, MD, issued the following remarks in announcing the award: "In conjunction with the Diversity Advisory Committee, it gives me great pleasure to inform you that the Hispanic Dental Association is the student recipient of the Dr. Martin Luther King, Jr. Diversity Award! The organization's work is exemplary of the ideals espoused by Dr. King."
The award is to be presented February 3 in a ceremony celebrating Dr. King's legacy as well as Black History Month.
The Hispanic Dental Association was similarly honored with the University's Dr. King Diversity Recognition award in 2014 in recognition of work with the Wolfe Street Academy and other oral health outreach projects to assist underserved communities in Maryland.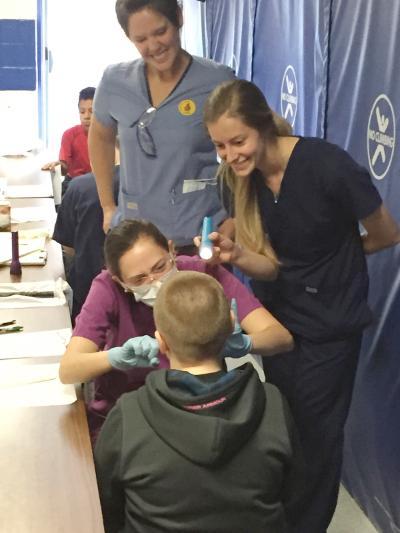 In addition, the chapter was honored as the Hispanic Dental Association's 2013 National Student Chapter of the year for outstanding efforts to provide service, education, advocacy and leadership in Hispanic oral health.
That honor recognized that through several community health fairs, volunteerism at local clinics, visits to predominantly Hispanic schools, and while celebrating the Hispanic culture, chapter members promoted dental careers to 800 undergraduates and performed oral cancer screenings and hygiene instructions to more than 200 Maryland residents.
The Hispanic Dental Association was organized to improve and promote the oral health of Hispanics living in the United States. Other goals include the recruitment and retention of Hispanic dental students, matching students in the Big Brother/Sister program for academic advancement and support, translating for patients who do not speak English, and organizing intra- and extramural activities. Students and faculty from all ethnic backgrounds are welcome to join. For more information, contact umb.hda@gmail.com.
Photos courtesy of the Hispanic Dental Association.