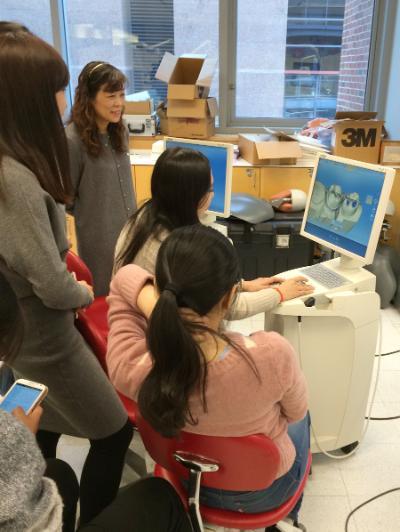 The University of Maryland School of Dentistry's ongoing partnership with a preeminent dental school in China remains active and vibrant as evidenced by a recent visit to Baltimore by six representatives from School of Stomatology Shanghai Jiao Tong University.
Organized as an opportunity for the Chinese contingent to learn about the School of Dentistry's curriculum, clinical operations and other programs, the visit also proved to be a forum for showcasing the Baltimore school's leadership in digital dentistry.
The 10-day visit in early December included an opportunity for the group from China to get some hands on experience with the School of Dentistry's Computer Aided Design / Computer Aided Manufacturing equipment.
The equipment makes use of advanced imaging equipment that is used to generate highly accurate, three dimensional images of the area of the mouth being worked on then use these images to model and mill custom prosthodontic implants. The new process is more accurate and much faster than the practice of making oral molds, which has been the primary way for making dental prosthodontics.
"They knew about this technology, but they are not exposed to it during their dental education," said Gary Hack, DDS, Clinical Associate Professor in the Department of Endodontics, Prosthodontics and Operative Dentistry at Maryland.
Other high tech highlights of the visit ‑ which was part of a broader curriculum sharing arrangement between Maryland and Shanghai Jiao Tong University – included access to simulation and laboratories, as well as the school's media facilities that allow for recording of and later online access to lectures, according to Scott D. Swank, DDS, MS, Research Assistant Professor in the Division of Dental Public Health, curator of the National Museum of Dentistry who coordinated the visit along with Richard J. Manski, DDS, MBA, PhD, Professor and Chief of the Division of Public Health.
The group from Shanghai Jiao Tong University included two doctors, one specializing in maxillofacial surgery and one specializing in oral pathology, as well as four seventh year students, two majoring in orthodontics, one in public health dentistry and one in oral mucosal disease.
Dr. Swank's itinerary for the visit included a range of topics including a review of U.S. privacy regulations, an overview of the Dental Research Center, two days of curriculum training that included online access training, and teaching skill training, among other things.
Among those who assisted in organizing and leading the exchange were:
Li Mao, MD, Chairman and Professor, Department of Oncology and Diagnostic Science, who initiated the visit and led the group on clinical visits;
Vineet Dhar, BDS, MDS, PhD, Division Chief, Graduate Program Director and Clinical Associate Professor of the Division of Pediatric Dentistry, who hosted a pediatric post-grad clinic for the group;
Larry Cohen, DDS, Clinical Assistant Professor in the Department of General Dentistry, who hosted an undergrad clinic;
Ira Bloom, DDS, Clinical Assistant Professor and Assistant Director, Advanced Education in General Dentistry, who hosted an Advanced Education in General Dentistry clinic.
The group also got to see the School of Dentistry's clinics where patients are treated using the advanced equipment and techniques pioneered elsewhere in the school.
"They had a fantastic time working with the units and strongly felt that this technology is the future of dentistry and created a better experience for the patients," Dr. Hack said.
Photos courtesy of Dr. Gary Hack.