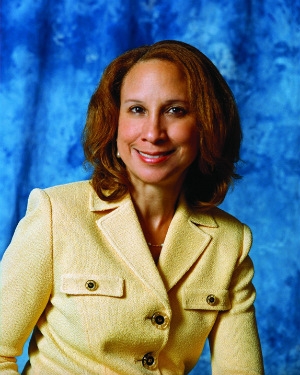 Throughout her professional life, Leslie Grant, DDS '86, has been driven by a desire to help others. She began her career as a speech and language pathologist who worked with physically handicapped children, but eventually was drawn to the oral health profession. "I decided that the experts in the functioning of the oral mechanism were dentists," she said.
After pursuing a dental career in Baltimore for more than 30 years, Grant, who in 1996 became the first woman to serve as Speaker of the House for the National Dental Association (NDA) and in 2006 became the association's president, still derives deep satisfaction from changing people's lives for the better. "I think [dentistry] is the greatest profession on earth. We alleviate pain, we restore smiles, and we help with a sense of self-esteem," she said.
Grant credits the University of Maryland School of Dentistry (UMSOD) for paving the way to this fulfilling career. After receiving a bachelor's degree in speech and hearing from Boston University, and a master's in speech pathology and audiology from the University of Washington, Grant was attracted to UMSOD by its special clinics. Billie Garner-Brown, former assistant dean at UMSOD, also was a deciding factor in Grant's enrollment. "Billie helped move UMSOD high up on my list," Grant said. "She was there on the evening that I interviewed. She informed me of my acceptance—and she was there as a mentor and guide for the four years I attended."
Grant also credits Garner-Brown for her success in attracting African-American students to UMSOD. Just over 11 percent of the class of 2020, for example, is African American, in comparison to a 5.1 percent national average. "Howard University College of Dentistry and Meharry Medical College School of Dentistry graduate the largest number of African-American students, and UMSOD is typically right behind them. That is largely due to Garner-Brown's legacy," Grant said.
Now, Grant would like to offer a new generation of dentists the opportunity to attend UMSOD. In 2016, she established an endowed scholarship named in honor of her mentor, Garner-Brown, and her classmate, Dean Mark Reynolds, DDS '86, PhD. This scholarship is intended to assist non-traditional, non-majority students who are in need and who have a commitment to the community.
Grant's own passion for community engagement has inspired her to take on several leadership roles. "For us to successfully be aware and implement changes when necessary, we need to be active in organized dentistry and influence policy," she said.
In addition to her work with the NDA, Grant serves as Chief Dental Officer at the Maryland State Board of Dental Examiners and is a past chairman of the board of the Organization for Safety, Apsepsis and Prevention (OSAP). She also provided school-based public health services with the city's health department for more than eight years.
Her commitment and hard work has been noticed. In 2015, she was named one of Maryland's Top 100 Women by the Daily Record. This list recognizes outstanding achievement by women demonstrated through professional achievements, community leadership, and mentoring.
"Grant has proven to be an asset to the profession and a valued alumna of UMSOD," said Garner-Brown. "She has made me so proud to be a mentor and, ultimately, her friend. Words cannot express how deeply moved and honored I am by her generous gift to our beloved dental school and its future students."