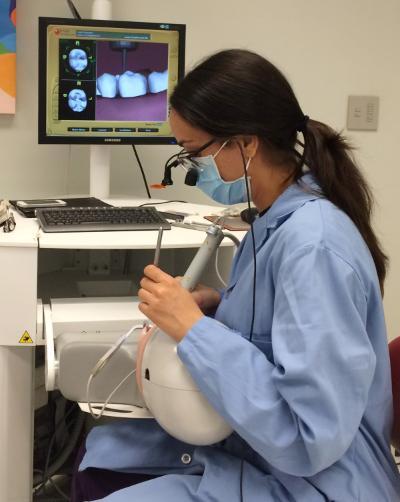 University of Maryland School of Dentistry student
Noemi Tisminesky gets hands on experience
with some of the latest digital equipment.
Digital dentistry may sound like a futuristic term – new advances are being made at a rapid pace – but as a practical matter recent graduates of the University of Maryland School of Dentistry are a driving force in turning new technologies into common practices.
It's not by chance.
Several years ago at the School of Dentistry, the concept of exposing students to the latest technologies became manifest in the Dream Room. As Gary Hack, '79 DDS, explains it, the Dream Room is a place where advances in dental technology get their trial runs and where dental students are part of the trial process.
"Practitioners will want to tap into our graduates' knowledge base in order to move their existing dental practices forward. Our graduates will be the driving force in the profession, the link to the future that takes dentistry to the next level," Dr. Hack says.
New today, common tomorrow
Advanced equipment doesn't remain in the realm of dreams for long, however, as once it is demonstrated to be useful, it makes the transition to a pre-clinical learning environment and then ultimately to the School of Dentistry's clinics where patients benefit from having access to the most advanced technology available.
Case in point: Computer Aided Design / Computer Aided Manufacturing, or CAD/CAM for short.
Within the School of Dentistry, the CAD/CAM technology already seems routine, as it has made the transition from the Dream Room to the clinic. The idea is easy enough to understand. Digital intra-oral scanners are used to capture images of a patient's upper and lower teeth, including areas where teeth are damaged or missing. Those images are used to generate digital models and ultimately physical dental restorations. The digital information is fed into a digital milling machine that manufactures the new crown, onlay, inlay, veneer or bridge.
For the patient, this technology can turn what was once an uncomfortable, multi-appointment process involving mouthfuls of dental impression material into a single visit with, as an advertisement for one dental office offering the technology puts it, "No more gooey impressions."
New students, new equipment
During a recent presentation, Dr. Hack and fellow faculty member Ira Bloom, DDS 72, Clinical Assistant Professor and Assistant Director of the Department of Advanced Education in General Dentistry, afforded a group of first year dental students the opportunity to have hands on experience with the CAD/CAM technology. Students said they were pleased to have the unusual opportunity to be able to have such training so early in the educational process.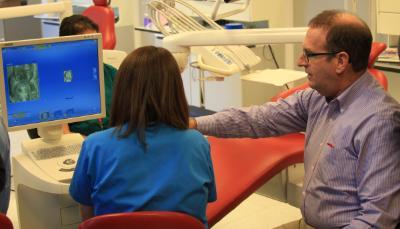 Dr. Ira Bloom offers guidance in the Dream Room.
As a prelude to the instruction, Dr. Bloom told the students such training will be vital as they advance: "This is my prediction—in your lifetime, all of dentistry will be digital."
Learning how to use such equipment makes University of Maryland School of Dentistry Students uniquely positioned to become leaders in digital dentistry once they enter private practice.
As Dr. Hack explains, the convenience made possible by advances like the CAD/CAM process is appealing to patients, so dentists in private practice seeking to remain competitive often are eager to add the advanced services to their treatment options. The problem, however, doesn't lie so much with the cost of the equipment but rather with the need to rapidly become proficient with the new equipment.
Dentists with years of experience may have well-established practices and be experts in their own right, but they don't necessarily have the time to learn to use a new technology while also serving their existing patients.
That's where students with experience in the Dream Room and beyond come into play, as they generally can hit the ground running when it comes to both incorporating digital dentistry technologies into private practices and bringing more established colleagues up to speed on the new computer technology.
"Our students are driving the use of this digital technology," Dr. Hack says.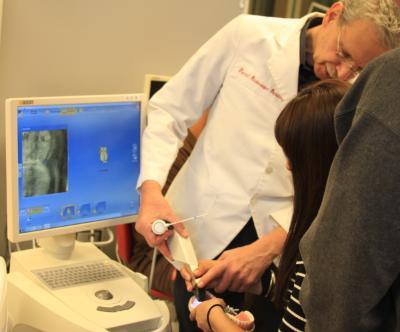 Dr. Gary Hack helps first year dental students
with digital equipment.
The Dream Room process may be putting new dentists into practice who are well versed in one aspect of digital dentistry, but the process continues.
Virtual reality
A new generation of digital technology is being put through the paces in the Dream Room, as is a instructional technology that has the potential to revolutionize the way students learn about oral health care.
Known as haptics, the new equipment incorporates elements of virtual reality video games into the serious process of training new dentists with their hand skills and manual dexterity. The equipment, the Moog Simodont Virtual Reality Simulation Trainer, includes special 3D glasses through which students see virtual teeth. The images of the virtual teeth are integrated with a dental hand piece simulator that reacts when used on a virtual tooth the same way a real hand piece reacts when it's being used on a real tooth.
Before the technology is used to grade students, however, students are being afforded the opportunity in the evaluation phase to grade the new technology. In late 2015, the manufacturer made available in the School of Dentistry its virtual equipment for a single day session. Dr. Hack is anticipating more such equipment will be available on loan for an extended period in the near future.
Regarding her time using the Moog Simodont Virtual Reality equipment, second year dental student Dana Short had this to say: "…the Simulation Trainer was most helpful in that it gives you different resistance when drilling enamel and dentin … it does not provide a finger rest and you do not have the simulation of cheeks, which you have in pre-clinic. So there are pros and cons."
Third year dental student Rosa Le had this to say about the Simodont: "…if they could add models that are more representative of real teeth and different types of occlusions, rather than the ideal/perfect typodont we use, it would help prepare us for the real world."
With regard to another virtual imaging teaching product, DentSim – billed as an augmented reality simulator -- first year dental student Noemi Tisminesky provided this evaluation: "DentSim is also great when obtaining feedback from faculty because the faculty can be able to see exactly what the student did wrong and explain how to improve or avoid a problem.
Moreover, the equipment optically tracks every motion made during the session and analyzes in real-time, removing all subjectivity from the grading process.
The process of moving forward
Even as digital dentistry's advances are passing through the Dream Room and becoming part of the practice mainstream, it can be predicted that more innovations will be coming into the Dream Room for evaluation.
Predicting what those advances will look like will not be so easy.
Asked what's on the horizon, Dr. Hack pulled his smartphone from his pocket and said that there is no way his grandfather could have predicted such a "magical" device. Yet smartphones have today become indispensable for most people.
Many of the rapid advances in digital oral health technology coming through the School of Dentistry today and in the next few years are likely to become as indispensable to the practice of dentistry as smartphones are now to everyday life.