Students from the Hispanic Dental Association, University of Maryland School
of Dentistry chapter are honored for their outreach efforts with a University
of Maryland, Baltimore MLK Diversity Recognition award.
As a student organization from the University of Maryland School of Dentistry was being honored for assisting underserved communities with a University of Maryland, Baltimore Dr. Martin Luther King Jr. Diversity Recognition award, a quote from the civil rights leaders was cited to reflect the importance of such work.
In presenting the honor to the School of Dentistry chapter of the Hispanic Dental Association, University President Jay A. Perman, MD, recalled a quote Dr. King made in connection with the 1966 meeting of the Medical Committee for Human Rights: "Of all the forms of inequality, injustice in health is the most shocking and the most inhuman because it often results in physical death."
The Hispanic Dental Society was honored for continuing outreach projects that provide free oral health education and screenings and services to the underserved communities of the Wolfe Street Academy in Baltimore and the Washington, D.C., suburb of Langley Park, Maryland.
The Hispanic Dental Association chapter has been working with the Langley Park community for the past 15 years and with the Wolfe Street Academy, a Baltimore charter school, for eight years.
The Hispanic Dental Association chapter, Dr. Perman said, has been able to provide community assistance in a culturally competent way. The communities served are primarily Hispanic and the members of the organization understand what steps need to be taken to bridge cultural divides that might otherwise stand in the way of providing such services.
Chapter President Allegra Lichauco was joined on stage during the University of Maryland, Baltimore's annual Dr. Martin Luther King Jr. and Black History Month observance by several fellow chapter board members as well as Dean Mark A. Reynolds DDS, PhD, MA, of the School of Dentistry. Present and cheering in the audience were Cecilia Velez, DDS, clinical assistant professor and faculty advisor for the chapter, as well as Clemencia Vargas, DDS, PhD, an associate professor at the school.
Among the highlights of the ceremony were performances by the Furman L. Templeton Preparatory Academy School Choir, a personal account of the state of the civil rights movement by Robert M. Bell, JD, retired chief judge of the Maryland Court of Appeals.
Judge Bell put his experience into the larger perspective of a multifaceted movement that began many years before his birth and that will continue for years to come. It was also the story of how his life intersected with the University of Maryland, Baltimore, as well as other civil rights cases.
As a 16-year-old high school student in 1960, Judge Bell participated in a protest seeking to secure access for all to a whites only restaurant in Baltimore. He and 11 others were arrested and convicted of trespassing. The Maryland Court of Appeals, the court Judge Bell would join 27 years later, upheld his conviction, and the case was pursued to the U.S. Supreme Court, which ordered the Maryland court to reconsider the case, which resulted in the conviction being overturned.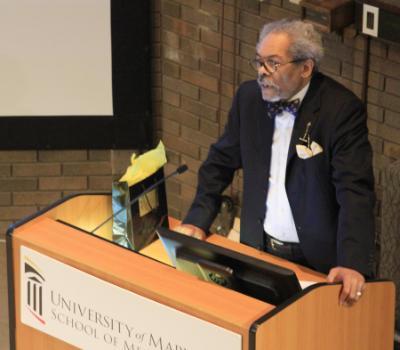 Robert M. Bell, JD, retired chief judge of the Maryland Court of
Appeals, tells of his early involvement in the civil rights movement.
The 1960 restaurant protest that resulted in Judge Bell's arrest was prompted, he recalled, by the 1954 U.S. Supreme Court Brown ruling overturning school segregation and rebuking the doctrine of separate but equal. The logic in that landmark decision, Judge Bell told those gathered February 3 in the Medical School Teaching Facility auditorium, was based, in part, on a decision by the Maryland Court of Appeals and involving the University of Maryland School of Law.
In that case, Donald Gaines Murray in 1935 had been denied admission to the School of Law, but the Maryland Court of Appeals – the same court that years later would uphold the conviction of a young Judge Bell – ordered the school to admit Mr. Murray.
While Judge Bell's trespassing conviction would be overturned, the days of whites only public accommodations have long since ended, and Bell would serve a distinguished term on the state's high court, the judge went on to say that it continues to be important to be vigilant with regard to civil rights. He noted that even now, voting rights and affirmative action are under threat.
He concluded, however, by expounding on the virtue of helping others to move up in the world by offering a hand up. He read a poem, "The Bridge Builder" by Will Allen Dromgoole, in which a man builds a bridge he will never need or use so that a younger person he will never meet will be able to use it.
"I leave you with the admonition: Build the bridge," Judge Bell concluded. Dr. Perman would echo this sentiment when presenting the Hispanic Dental Association's award, pointing out that the organization's efforts have helped to bridge cultural divides.
Club members are: Safiya Abdullahi, Cyrus Aghdam, Yasmin Amiri, David Anguiano, Aja Ayala, Jhosdyn Barragan, Gary Bedrosian, Kelly Betts, Colleen Browne, Monica Bulay, Da Choi, Yee Seul Chun , Michael Chung, Laura Colmenares, Camila Coyne, Krystal Donaldson, Christine Dumler, Holly Dwyer, Steffi Estevez, Ekpa Eyoma, Alexandra Fitzgerald, Alyssa Flashburg, Hannah Fong, Matthew Frykenberg, Alexa Goetz, Christopher Gregoire, Dana Grimm, Victoria Guiliani, Mina (Yumin) He, Jordan Hobel, Scott Hopkins, Shen(Kevin) Hu, Peter Hwang, Anne Isaacs, Jennine Jarrett, Binait Kabir, Ramandeep Kaur, Shariq Khan, James Kiefer, Gyeongwon Kim, Catherine Kolasny, Ladam Kuang, Rosa Le, Melissa Lee, Adam LePine, Allegra Lichauco, Ricky Lim, Daniela Loebl, Elssy Lopez, Whitney Luu, Behnam Majd, Diego Maldonado, Joyce Martinez, Akosua Mensah, Katelyn Miller, Matthew Montenero, Vanessa Moore, Shawn Na, Natalie Ness, Jennifer Nguyen, Brian Normile, Lola (Cynthia) Odukomaiya, Matt Offman, Victoria Onesty, Krupa Patel, Trishna Patel, Janell Payano Sosa, AnneMarie Pickett, Michele Pondelick, Morgan Potter, Linda Powers, Michael Powers, Maryam Qayumi, Qinzhuola Qi, Colleen Quinn, Paulina Rodrigues, Carlos Rodriguez, Rebecca Rogers, Leigh Ryan, Felix Santamaria, Raime Shah, Jennifer Shiflet, Megan Tigani, Noemi Tisminesky, Luke Tompkins, Amanda Ward, Victoria Watson, Hayley Willer, Jill Young, Anum Zaidi, Leili Zamini and Kristine Zeeb.